2 mins read
Udaipur the city of lakes in race to be nation's first wetland city, ET TravelWorld
The Rajasthan government is pulling all stops to make Udaipur, the city of lakes, the country's first wetland city.
The environment and the forest department has chosen the city as per the Ramsar Convention of International Importance. Udaipur, surrounded by five major lakes, Fateh Sagar, Pichola, Swaroop Sagar, Rang Sagar, and Doodh Talai, is already included in the restoration project of the National Lake Conservation Plan (NLCP) of the central government.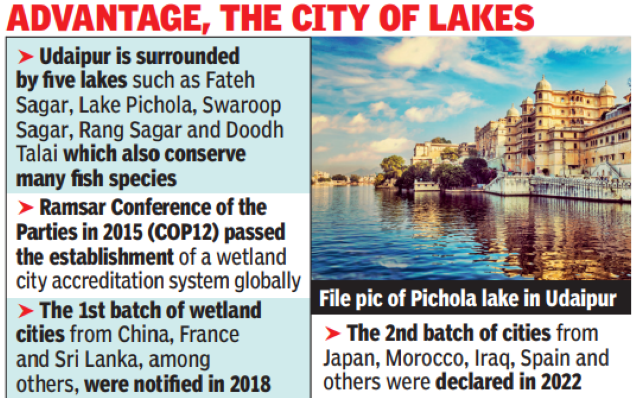 The lakes and wetlands of the city are managed mostly by the tourism and the local self-government departments.
The state environment and forest department is sending the nomination to the Ramsar Convention to declare it of international standard.
"The department will organise a one-day workshop on October 13 for district officials and representatives of local bodies to finalise the draft. The inter-departmental meeting will consider suggestions from all stakeholders," said Monali Sen, joint secretary, environment and climate change ministry.
As per Ramsar Convention, a wetland has to be considered internationally important if it contains a representative, rare, or unique example of a natural or near-natural wetland type found within the appropriate biogeographic region and supports vulnerable, endangered, or critically endangered species or threatened ecological communities.
As per state authorities, Udaipur city, spread over 37 sq km, meets all the required criteria to be declared as a wetland city.
Only a handful of cities in the world have been given this title. Other than Udaipur, Bhopal is also in the race for the tag.
The Ramsar Convention on Wetlands of International Importance Especially as Waterfowl Habitat is an international treaty for the conservation and sustainable use of Ramsar sites. It is also known as the Convention on Wetlands and named after the city of Ramsar in Iran, where the convention was signed in 1971.
In 2022, during CO, the convention recognised 25 cities as wetlands such as Sackville in Canada, Ifrane in Morocco, Cape Town in South Africa and other countries. Currently, there are 42 wetland cities spread across 17 countries worldwide, with China having the maximum or 13 such cities.