2 mins read
Polaris Attend Stevedoring Conference In NJ
Outgoing Polaris Holding Company Limited CEO Warren Jones joined his successor, Randolph Rochester, at the Hyatt Regency on the Hudson in Jersey City, New Jersey, for the General Stevedoring Council [GSC] Americas Section Meeting & 47th New York Working Luncheon.
A spokesperson said, "Attendance at the industry gathering is part of Polaris' commitment to ensuring a seamless leadership transition while strengthening global connections within the maritime industry.
"GSC's membership spans the maritime globe, with executive-level representation from companies on every continent. This unique cross-cultural network is a forum for members to exchange information, knowledge, and contacts within the stevedoring and port operations industry. It promotes industry growth, and training for future leaders, and offers regular networking and benchmarking events.
"Stevedoring Services Limited [SSL] has proudly been a member of the GSC since 1973, benefiting from the network's support and resources over the past fifty years. Polaris enters a new era as Jones hands over the executive leadership role to Rochester.
"This year's meeting marked the last handover responsibility of outgoing CEO Warren Jones to the newly appointed CEO Randy Rochester. GSC has played an integral role in SSL's growth and success during Mr. Jones' tenure, providing networking opportunities and critical training for SSL managers. GSC's assistance extended to offering technical advice on strategic matters and facilitating Mr Rochester's transition into the industry by connecting him to ports in Ireland, Holland, and Sweden over a two-week period.
"In addition to networking opportunities, this year's section meeting covered topics such as port safety, security, accessibility, ongoing management training needs for stevedores and the sustainability and expansion of the organisation into regions where it lacks members or has lost them.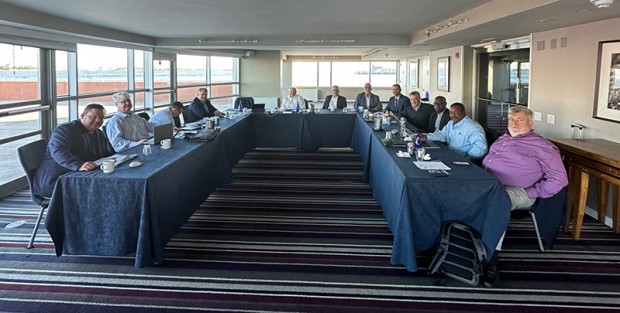 Warren Jones, former CEO of SSL, stated, "Our association with the GSC has been crucial for Bermuda and SSL. As a small, isolated island, we must maintain a global perspective on the maritime industry and resist complacency with what works in Bermuda."
Randy Rochester, the new CEO, emphasised his positive experiences during overseas attachments, saying, "I am encouraged by the friendships I have made in such a short time with colleagues in similar situations and others with far greater responsibility than I will have at SSL. Regardless of the size of their ports, we are all considered equal. I have found the members willing to share their expertise and experience to ensure I have the best possible opportunity for success."
"This meeting signifies the commitment of Polaris through SSL to continuous improvement, global collaboration, and a smooth leadership transition to navigate the rapidly evolving maritime industry."
Read More About