4 mins read
Bermuda Is Love 'Housing4All' Campaign
This October, Bermuda Is Love is launching the #Housing4All campaign to "address the problem of homelessness in Bermuda and advocate for the right to housing for all."
A spokesperson said, "Everyone needs good quality housing to live and thrive in and having a home is central to every aspect of our wellbeing, from health to educational attainment to happiness.
"Yet in Bermuda there are hundreds of people who are experiencing homelessness every day. Persons who are living on the streets or sidewalks, or in makeshift encampments, without electricity or running water. Persons doubling or tripling up with others, and living in overcrowded homes that do not meet their basic needs. There are people sleeping rough, on a friend's sofa, or living out of their own car. There are those who must choose between eating or paying rent. And there are persons who are discriminated against and prevented access to housing simply because of their identity.
"This is unacceptable. Housing is a human right. The right to housing is more than simply having a roof over one's head. It is the right to live in safety and dignity in a decent home. It is integral to core human rights values such as equality, inclusion, wellbeing, security of the person, and public participation.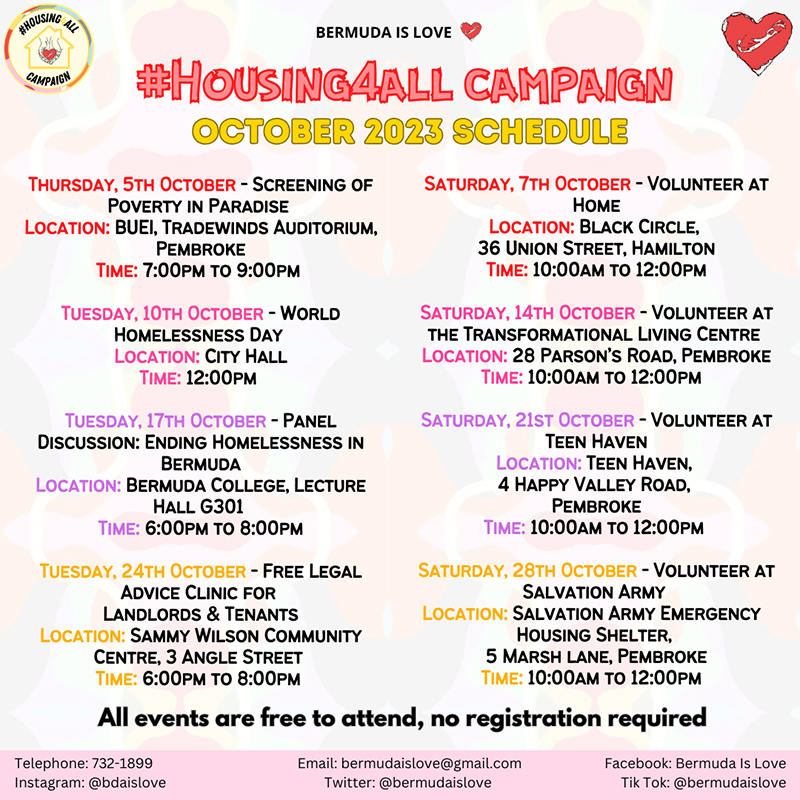 "Bermuda Is Love advocates for the full realization of the human right to housing to take place in Bermuda so that no one ever again faces the threat of being made homeless. The housing crisis that we are facing today is a product of socioeconomic inequality, and the unsustainable housing system that treats housing as a commodity, and not as a right. The right to housing therefore requires a cultural shift in the way housing is currently conceived, valued, produced, and regulated in Bermuda.
"Throughout the month of October, join us as we discuss the practical solutions, best practices, challenges, obstacles, and gaps in relation to the realization of the right to #Housing4All. Please join us for a variety of community events including a housing rights film screening, a collaborative celebration of World Homelessness Day, a panel discussion on Ending Homelessness in Bermuda, a Free Legal Advice Clinic for Landlords & Tenants, and a variety of volunteer community days at Bermuda's specialist housing rights charities.
"Homelessness is not just a personal issue, but a societal one. It affects us all, and we all have a role to play. Let us work together as a community to ensure that everyone has a safe place to call home and end homelessness in Bermuda.
#Housing4All Campaign October 2023 Schedule
Thursday, 5th October – Screening of 'Poverty in Paradise'
Location: BUEI, Tradewinds Auditorium
Time: 7:00pm to 9:00pm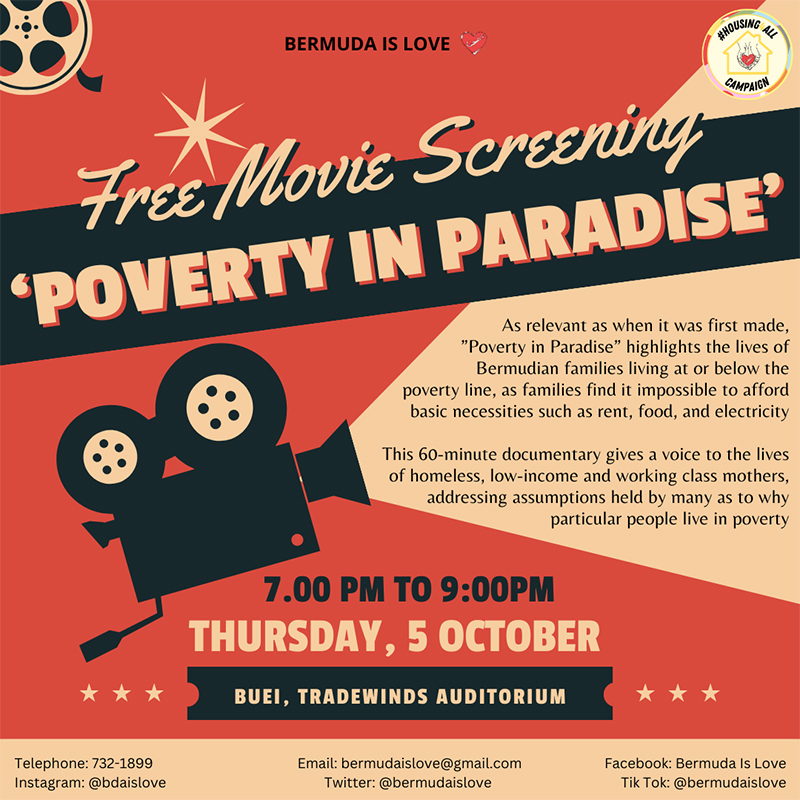 Saturday, 7th October – Volunteer at Home
Location: Black Circle, 36 Union Street, Hamilton
Time: 10:00am to 12:00pm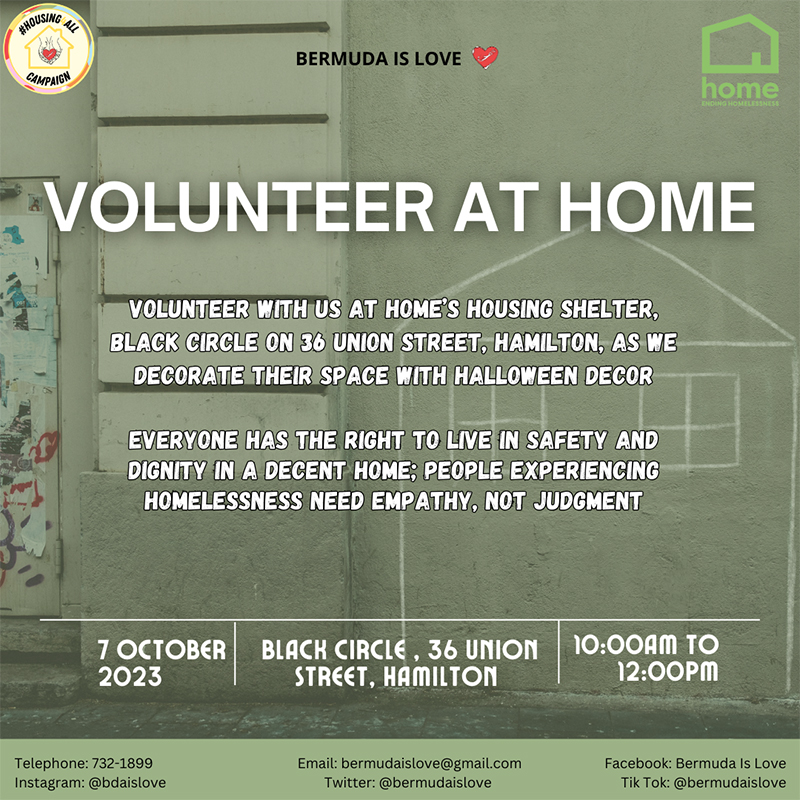 Tuesday, 10th October – World Homelessness Day
Location: City Hall
Time: 12:00pm to 1:00pm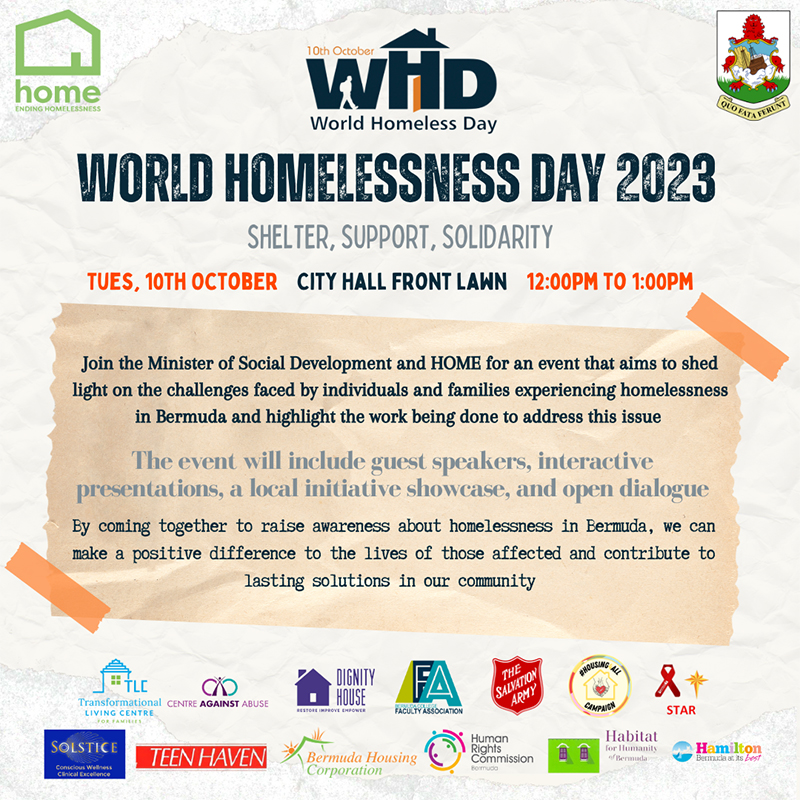 Saturday, 14th October – Volunteer at the Transformational Living Centre for Families
Location: Transformational Living Centre for Families, 28 Parson's Road, Pembroke
Time: 10:00am to 12:00pm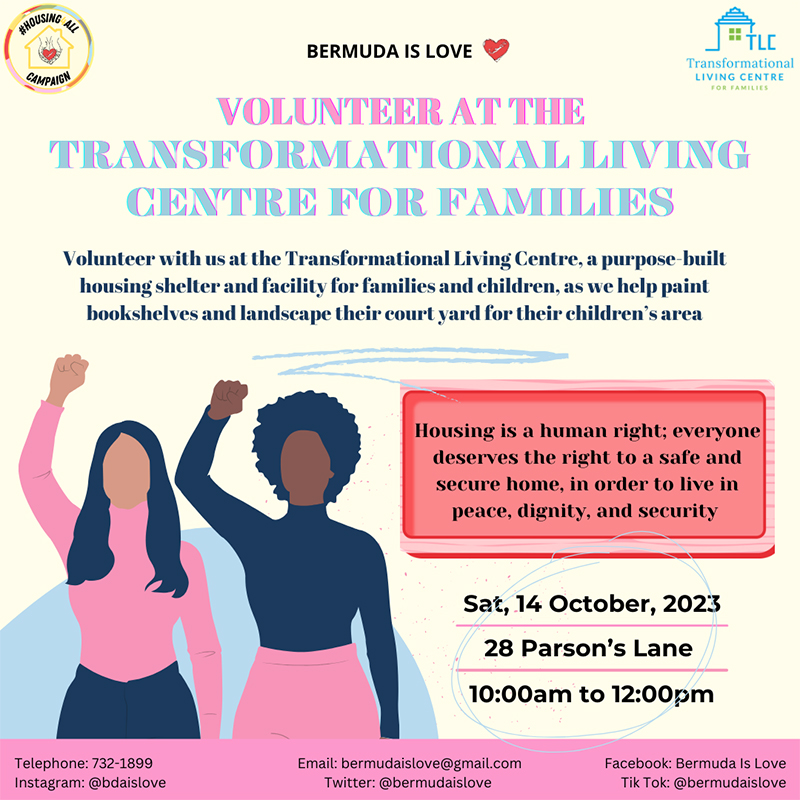 Tuesday, 17th October – Panel Discussion: Ending Homelessness in Bermuda
Location: Bermuda College, Lecture Theatre G301
Time: 6:00pm to 8:00pm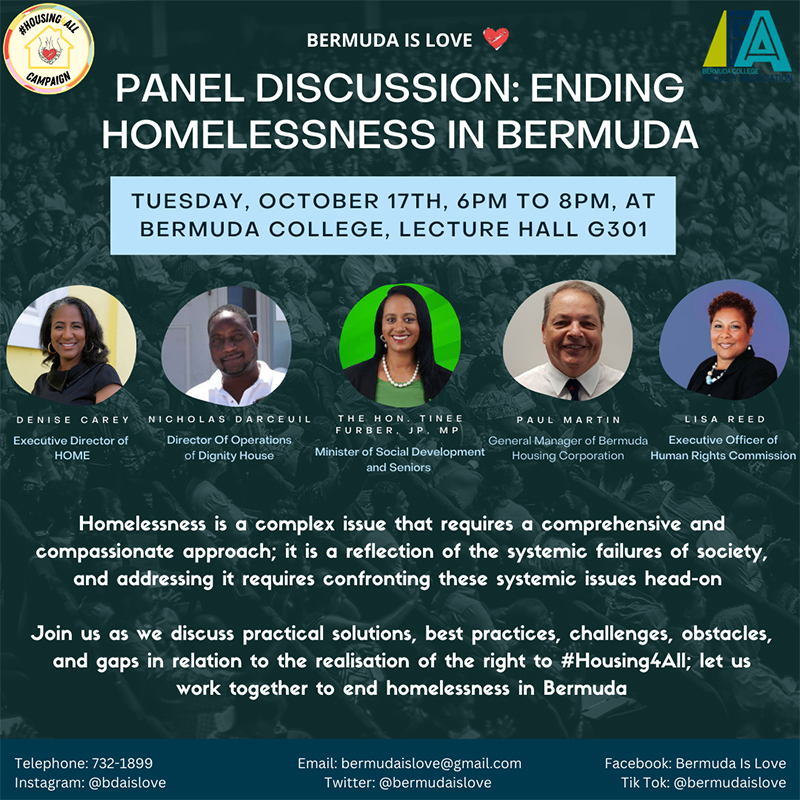 Saturday, 21st October – Volunteer at Teen Haven
Location: Teen Haven, 4 Happy Valley Road, Pembroke
Time: 10:00am to 12:00pm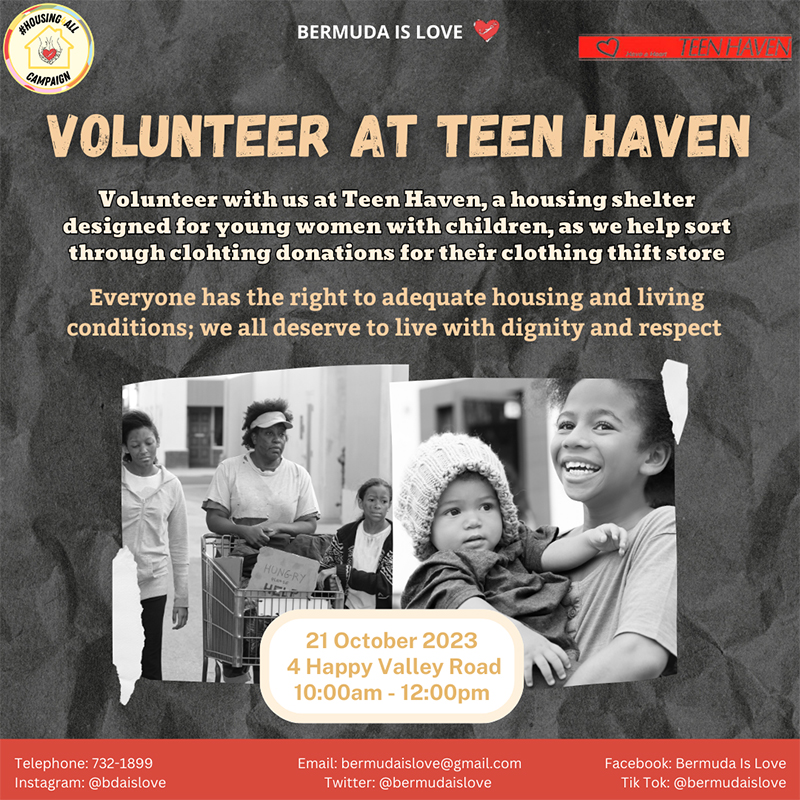 Tuesday, 24th October – Free Legal Advice Clinic for Landlords & Tenants
Location: The Centre, Sammy Wilson Community Centre, 3 Angle Street
Time: 6:00pm to 8:00pm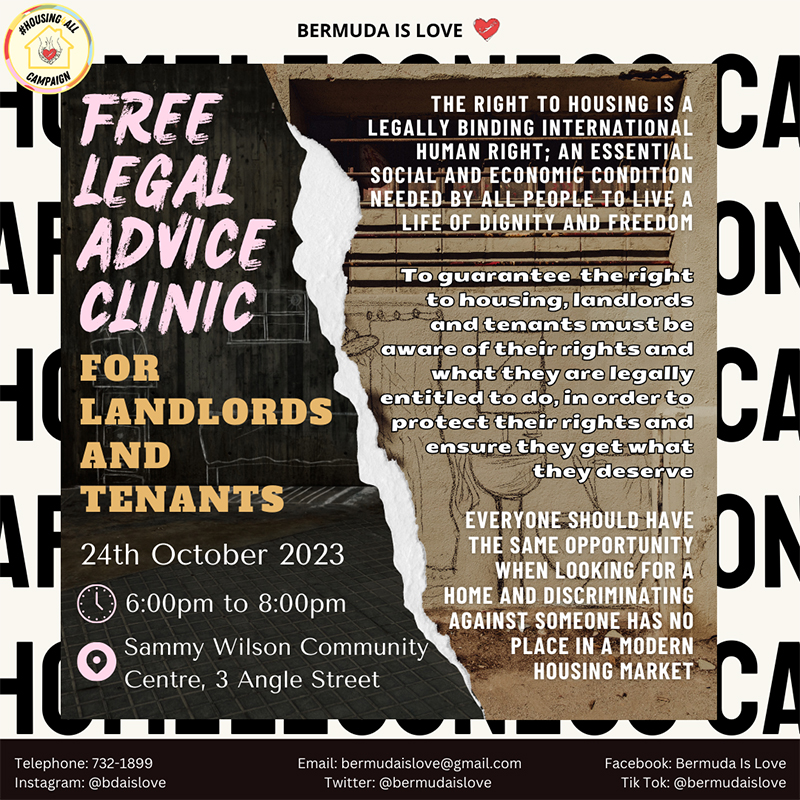 Saturday, 28th October – Volunteer at Salvation Army
Location: Salvation Army, 5 Marsh Lane, Pembroke
Time: 10:00am to 12:00pm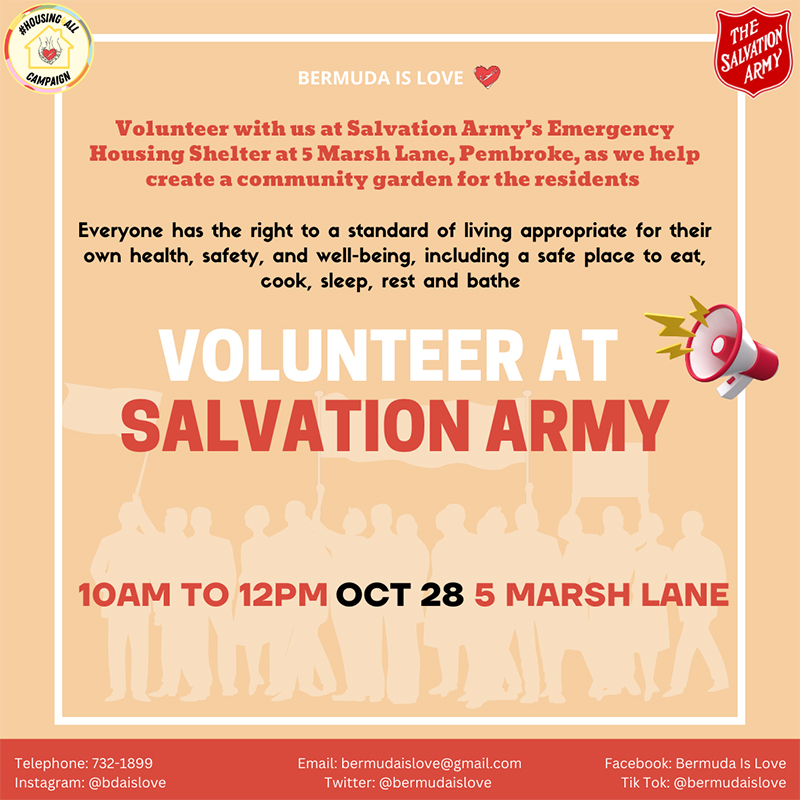 "All events are free to attend and no registration or sign up is required."
Read More About