2 mins read
BELCO On 'Misconceptions' About FAR Increase
Since announcing there would be an increase in the Fuel Adjustment Rate [FAR] "there have been several misconceptions and incorrect information circulating," the BELCO President said, adding that "customers' bills are not increasing by 48%, only a portion of the bill will increase, the base rate and other charges will remain the same."
BELCO President Wayne Caines said, "Since announcing there would be an increase in the Fuel Adjustment Rate [FAR] from October 1st, there have been several misconceptions and incorrect information circulating in the community. I wish to address these rumours and misconceptions and clarify what the increase in the FAR means for our customers.
"To be clear, customers' bills are not increasing by 48%. Only a portion of the bill will increase. The base rate and other charges will remain the same and only the FAR will increase. The FAR is the total cost of purchasing and delivering fuel to BELCO's central plant and is comprised of two parts – the fuel and taxes on fuel. The FAR is calculated and approved by the Regulator every 3 months and rises and falls with the global price of fuel.
"BELCO does not make any profit on the increase in the FAR as the rate is only associated with the costs associated with the fuel and taxes on fuel. It's this portion and only this portion of customers' bills that will increase. It is not a 48% increase on your total bill. It's a 48% increase associated with the FAR only.
"As an example – for the average household it equates to an approximately $52 increase in your bill. For the average household, if your bill was approximately $280, with this increase, the bill will now be approximately $330.
"At BELCO we understand that any increase is significant. However, it is important to know the facts and not be misled by false information that is circulating in the community. If customers have any questions or concerns, they can contact BELCO's Customers Experience Team on 299 2800."
Graphics via BELCO: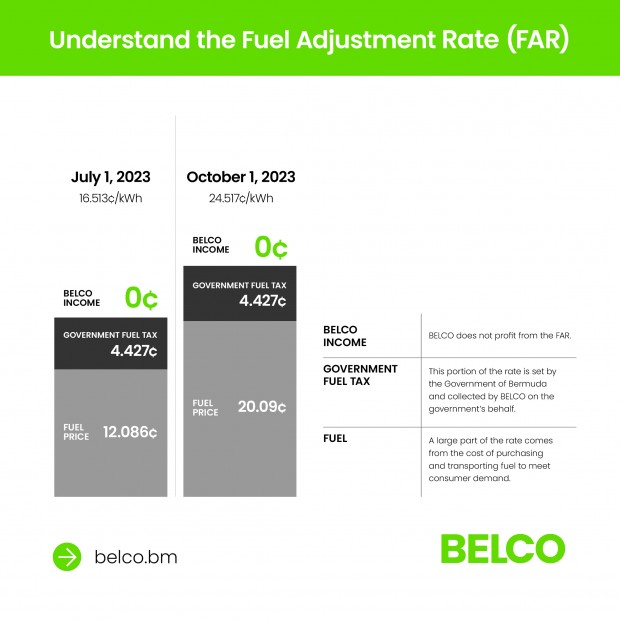 Read More About
Category: All, Business, News, technology