2 mins read
Group Aims To Save St. David's Primary School
Members of the "Keep Our School Open" group have rallied together with an aim to stop St. David's Primary School from being closed, with the group holding a meeting and also launching an online petition.
A spokesperson said, "The community of St. David's has rallied together to save St. David's Primary School from closure as announced by the Ministry of Education in 2021.
"The school which has operated continuously for 130 years and which was the first integrated school in Bermuda, is central to the St. David's community, producing doctors, scientists, teachers, athletes, members of parliament, boat pilots, skilled tradesmen, and many other notable members of the community.
Members of the Keep Our School Open group with parents and students outside the school.
"In an effort to save the school from closure, members of the protest group "Keep Our School Open" which consists of members of the community and alumni, spoke about the school's unique history and heritage to parents and teachers at a PTA meeting at the school on Monday evening [Monday, November 20]. They will also be appealing to the Minister of Education to make the case for the school to remain open."
One of the spokespeople for Keep Our School Open and school alumni, Dr. Henry Dowling said, "St. David's Primary sits right at the heart of the St. David's Community. Many of us who attended the school can trace our love of education and subsequent career path directly back to the values and standards instilled in us by the school.
"For us, it was more than just a school – it was central to our community where parents, teachers and neighbors came together to ensure that children were safe and cared for.
Community members attend the meeting.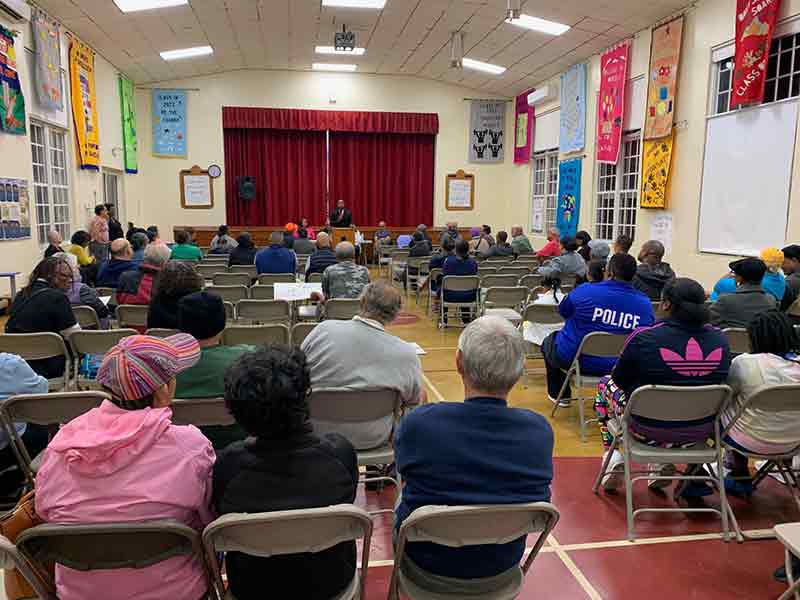 "The friendships we made there became the fabric of the tight-knit community that we know today. On behalf of a part of the Island that has already lost so much – first with annexation of land for the U.S. base and more recently, with the loss of our post office, grocery store and restaurant – we will be making a strong and impassioned case to keep open the nurturing community school that has set up so many of us for success. Without the school St. David's will be left derelict. This is why we are fighting for our school and for our community."
The spokesperson said, "Anyone who would like to support the group and who opposes the closure of the school can sign our petition: https://chng.it/kbGJfHVWpS or visit the school's Facebook page: St. David's Primary School PTA."

Read More About