2 mins read
Bermuda Win Race In SSL Gold Cup Series
The SSL Gold Cup continues in Gran Canaria in Spain, with Bermuda's team making a strong showing to claim a victory today [Nov 12].
A spokesperson said, "It started with intense excitement, and ended with a whimper, but even though the winds were light, the action was frenetic on day 3 of the SSL Gold Cup 1/32 Finals in Gran Canaria. We saw comebacks, surprises, intrigue and tension in abundance, with the four boat format providing edge-of-the-seat, nail-biting viewing for the livestream spectators.
"The first leg saw the four teams ranked in the opposite order of the overall leaderboard after day two, with Bermuda leading, Malaysia second, Ukraine third and Antigua & Barbuda last after a problem at the start left them languishing behind the fleet.
"In very light winds the Bermuda 'Privateers' held their nerve to take the win, with Malaysia second. Antigua & Barbuda moved up to third briefly, but Ukraine took the initiative on the final gybe to sneak back in front and take third."
Rockal Evans, Captain of the 'Privateers', said, "We had two really frustrating first days. I mean, we had some really good moments of brilliance, but our mistakes outweighed our good moments. Today was like a textbook; we nailed our tactics around the race course, we had good boat speed, in phase with the shifts and a few different tweaks that we debriefed about yesterday, what the other teams were doing.
"We had a little moment at the last top mark, after the spreader mark, where Malaysia got really close, but we were very confident in our boat speed downwind, because we walked away from the fleet on the first downwind leg, and we just did the same things to get the boat speed back up and just sailed away from them.
"It's definitely winner-takes-all tomorrow. Right after our finish today, I looked at the boats finishing behind us and I was like 'this is perfect'. We needed them to finish in that order, so we're all bunched together for the last race. And I made the team aware of that and everybody's hungry to get to tomorrow and do the same thing that we did today – we definitely have the momentum."
A spokesperson said, "Going into Monday's double point race things couldn't be tighter with Antigua & Barbuda, Ukraine and Malaysia all tied on eight points, and Bermuda just two points behind, but with all the momentum after their win today. It's wide open as to who will qualify to the 1/16 Round from Fleet 3.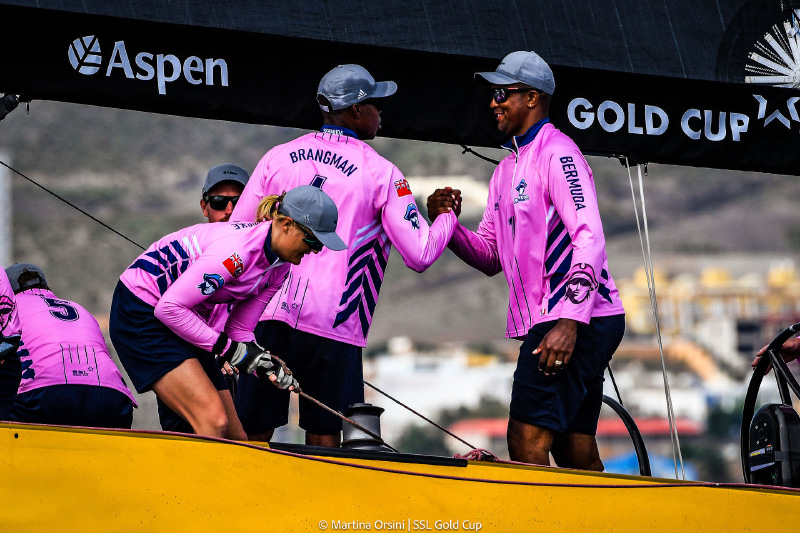 Read More About