2 mins read
Artist Ingrid Botelho Inspired By Nature
[Written by Stephen Wright]
Ingrid Botelho has always been a creative soul but never considered using sea glass as an artistic medium until a visit to a beach more than eight years ago.
She remembers sitting on the sand and crafting the naturally weathered pieces of glass into pictures and being struck by its artistic potential.
Surprised by the movement she could create with the smooth and frosted glass, Ms Botelho gathered up bits and pieces and began her creations.
"I'd never heard of sea glass art at the time and researched it online," Ms Botelho told Bernews.
"I saw what people were doing with pebbles and sea glass and thought, 'I could do more than that'. I wanted it to look like art and not craft. I want it to look like an actual painting. I want to create art people can feel emotion through."
Her early creations depicted a Gombey, families, a dancer and a woman wearing a Covid-19 mask.
After launching her own business, Seafrost Bermuda, Ms Botelho began selling her art, firstly to friends and then to buyers from all over the world.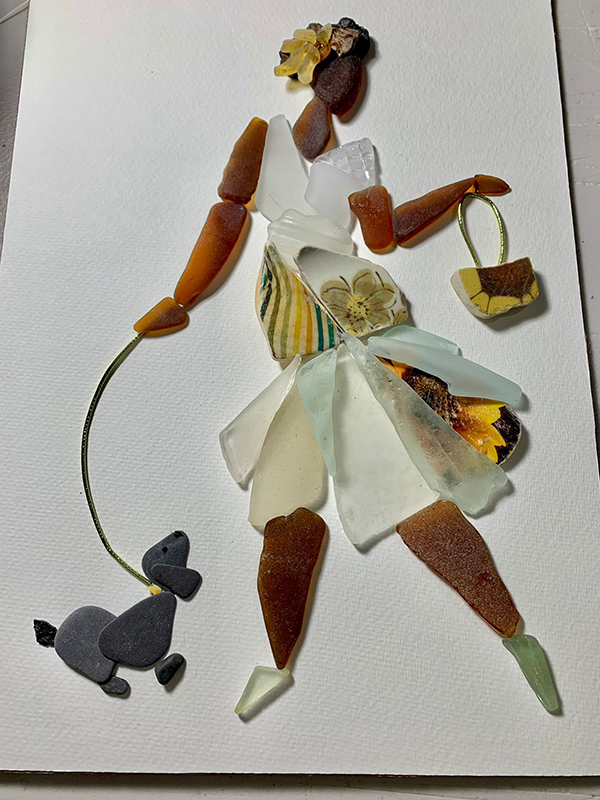 "I had few friends say to me, 'You can sell these'," she said. "I was like, 'No, it's just trash on the beach'. They said, 'No, it's full of movement; it's beautiful'.
"One of my friends bought a piece for $25 in 2015, so I started putting my art online," she said, "I've sold pieces to buyers in Canada and Australia."
Ms Botelho, whose husband Paul Botelho makes the frames for her artwork, no longer collects sea glass from the Sea Glass Beach as there is a sign asking people not to take it. Instead she gathers it from several beaches along South Shore.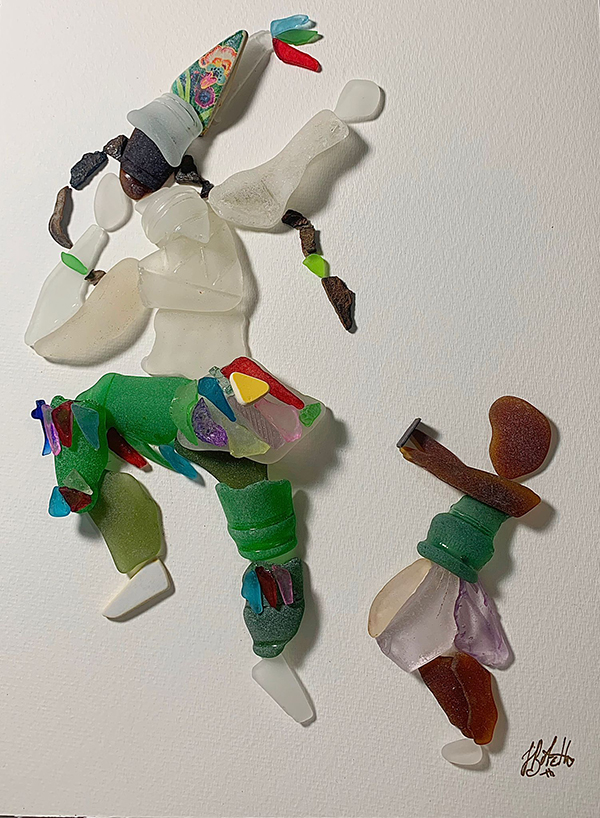 She had her first sea glass exhibition, Flowers and Sea Glass, at the Bermuda Society of Arts at City Hall in Hamilton last year and will have a solo show at the Three Graces Day Spa at Newstead Belmont Hills Golf Resort and Spa in January.
The theme of the show will be relaxation and self-care.
"I like to create art that promotes self-care and togetherness," said Ms Botelho, who quit her job in property management to concentrate on her passion for sea glass art before the Covid-19 pandemic.
"I glue the sea glass on the paper and use light and shadow to help me create movement. I don't draw anything; I piece it together like a puzzle."
Instagram: @seafrostbda
Facebook: Seafrost Bermuda

Read More About
Category: All, Business, Entertainment